When the idea of attending the Global Forum for Adult Survivors of Commercial Sexual Abuse and Exploitation of Children was initially presented  to me,  I was hesitant to go. , It would be my first time to be traveling alone without Cracked Mirror, and I doubted my capacity to represent Stairway. But, after a few days of thinking about it, asking myself If I can do it, realizing how essential it is to be there, how my story will help other victims, I decided to be a part of the event. But, giving my yes, did not guarantee that I would actually be a participant.  First, I had to be interviewed via Skype, but  after a day of waiting, I received the information that I was being chosen to participate in forum.
As the invitation to join the Forum was unexpected,  I was met with so many challenges from the processing of my visa to getting myself on the plane. On the day of my flight, there was a problem with my ticket. I had already given up and told to my colleague Kuya Ace, teary eyed, that I would not push thru anymore. But he told me not to give up, that we would do something about it just in order for me to get there.  It was a relief, when I was eventually inside the airport, waiting to board my flight.
Finally, I arrived in Paris, France with no hassle from the immigration. While at the airport, I had to update people at home that I had safely landed. From the airport, I rode a train to the city to meet with Stairway's friend, Kuya Ding, a photographer, who has taken some of Stairway's images many years ago. I spent my day walking around the city with Ding, visited Sacré-Cœur – the Basilica of Sacred Heart of Paris, Eiffel Tower and Louvre. I spent my night with Kuya Ding's family and his wife had prepared some French cuisine for dinner. I was tired and sleepy when I went to bed, but I couldn't sleep thinking about the Forum, my presentation.
The next day, with not enough sleep, I rode a train from Paris  to Strasbourg. Trains  in Europe are right on time, and based on my experience  years back, you have to be on the right platform, or you will miss the train. It was a challenge when I arrived at the terminal as the staff were not accommodating when i asked them questions. Afraid to miss my train, I sat, waited, didn't bother to take any lunch, nor go to the restroom, I kept staring at the screen until it flashed the information which gate and platform I should go to, as the train will only wait for 10mins. Luckily I got on the train, right on time 2 minutes before it departed.
When I arrived in Strasbourg, it was raining. I headed to the hotel where I was met by Ommera from Ecpat International. She was happy to see that I made it and that I would be participating, as she was worried about me. The first night, Ecpat had organised a welcome dinner for all of the participants at a restaurant in the city. There was just so much noise, and everyone was so glad and very excited to share their experiences and stories.
The next day, we all took a tram to get to the Council of Europe. The day was spent in getting to know each other, where we came from. We did a resiliency activity in the morning and the rest of the morning was spent in sharing our stories. In the afternoon, we started to make the preparation for the main forum, discussed topics  from the outcome of the consultations that were conducted in different countries around the world in October. An exhibition was also held, where art works of children survivors of abuse were displayed.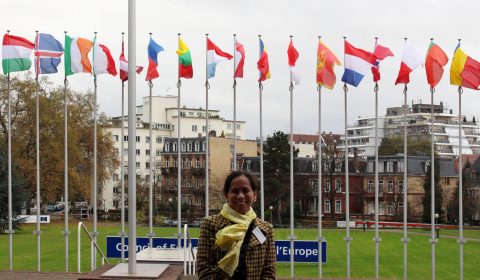 And finally, the day had come for the 1st ever Global Forum for Adult Survivors of Commercial Sexual Abuse and Exploitation of Children, hosted by ECPAT International in collaboration with the Council of Europe. The Global Forum is a landmark to provide a platform to amplify the voices of survivors from around the globe. There were 15 adult survivors coming from 11 countries around the world,  convening to provide expertise and invaluable insights to guide governments and other bodies in developing policies and procedures and to share the best practices for the prevention of violence against children.
18th of November is a special day for the Council of Europe, as they are celebrating the 2nd  European Day for Protection of Children from Sexual Exploitation and Abuse.Sexual violence against children exist in every country.
As I headed back home, I carried within me our stories, kindling that  burning desire inside me to continue the advocacy that I am doing in order to protect children from this crime. The forum has made me realize that this is the kind of work that I want to do in the next years of my life.  I felt a little bit small and  inadequate  during the days that I was at the Forum.   I was overwhelmed by how much many of the other participants have achieved, but that has inspired me to keep on learning, keep on exposing myself to the issue and to do more with what I am doing.
I am humbled to know each and everyone's story. I am privileged to be given the opportunity to be a part of this event and to have the chance to share my story. I believe as survivors we can help to contribute in giving voices to the children, who are still victims of this abuse and to continue to inspire  survivors around the world that they are never alone on this journey. Yes, we have been abused, the pains will sometimes come back and hunt us, but we must not allow it to bring us down. Our stories are unique and nobody can take that away from us.
As my message for everyone around the world during the forum, "We must continue to be the voice and walk hand in hand in order to create awareness and protect the next generations of children from this horrible crime on the rise."
Thank you to my friends from childhood to high school, for being there even if you're not on my side. Thank you ECPAT International for selecting me. Lastly, I would like to extend my sincere gratitude to my better half and for my Stairway family. Some of you have been the key elements why I was there, without your encouragement, your support, your trust and belief in me that I can, I will never be there to share my journey. Last minute I have to bug some of you to help me with my visa, with my bookings, to a few that I am constantly bugging on Facebook for every questions I have. You all have been very patient and very supportive. I almost lost hope and gave up, but you told me that I can do it, We can do it. God's plan perseveres.