Dear Friends,
The Show Must Go On!
We were expecting its coming, but the power and the wrath it presented came as a surprise.  I am referring to typhoon Nock-Ten (called Nina locally), which passed through our area the day after Christmas. Our good fortune was that it hit during the day, as all power was knocked out in an instant, including our own generator back-up system.  The magnitude of the force is hard to describe, but when huge trees are uprooted, chairs, tables and rooves are flying, and water cascading in everywhere, we are up against great power!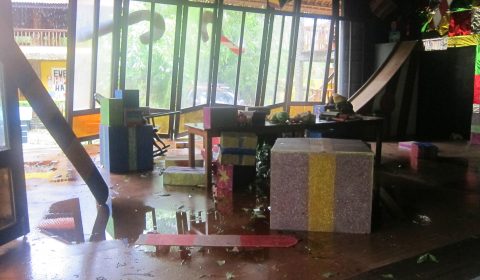 Sadly, while regretting every bit of hurt and destruction left in its trail, "Nina" somehow seems an appropriate punctuation to a year where much was turned upside down, when looking at the larger context we live and operate in.  In times of trouble we need a strong spirit, and we need each other for friendship and support. This is what Stairway is all about!
Concerning the strong spirit, we opened this year's "One Wish" performance just before Christmas with the usual grandeur of sets, props and lighting.  "Nina" changed all of that in minutes, when the metal/Plexiglas doors of the stage were pulled out of their sockets and bent or unhinged, as the wind and the rain raged through and left sets, props and lights in a chaotic and miserable condition.  But, the show must go on!  So, Santa and his elves got together, and with lots of determination and hard work they restored almost everything within just 24 hours.  With only one cancellation, the kids were back on the stage to complete this season's round of performances.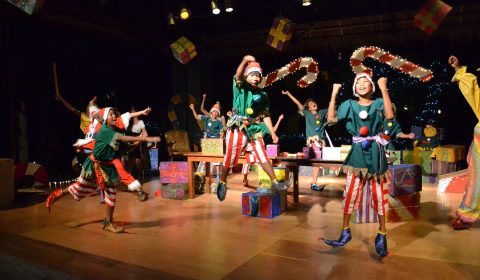 Last night was the final show of the year.  Around 230 people packed the theater and the surroundings, and our kids once again mesmerized babies and toddlers and cracked up the other audiences with a blast of a performance. More than 150 of the indigenous folks in the audience stayed on for a meal after the show.  According to many, this outing was the highlight of their Christmas.
"One Wish" has become a well-known tradition, and we see local and foreign audiences returning time after time to enjoy this display of magic, laughter and joy performed by a new group of Stairway kids every year.  There is little doubt that the Stairway boys will forever associate Christmas with "One Wish" and all the magic surrounding its creation and presentations.  A small play which played a big role in their building of self-esteem and fostering a more positive outlook on life, along with its evident display of the benefits of discipline, hard work and team spirit.
Seen in a global perspective, the One Wish for "Peace and Joy on Earth, and all coming together as one" has quite a naive sound to it.  But, let us dream on together, while we under the gravity of reality put in renewed efforts to protect and promote children's rights here in the Philippines and beyond.  Our shared dreams and joint efforts do make a difference!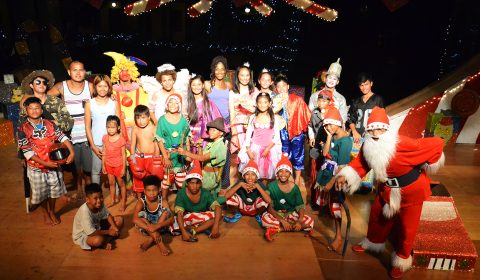 We are looking forward to your continued collaboration and support in 2017.
Happy New Year!
The Stairway Family