Philip Mondragon, is a handsome 19 year old with wavy hair, a pleasant smile and a penchant for football.  A former street child who suffered many hardships, Philip came to Stairway to be treated for tuberculosis in 2007.  Now in great health, Philip has returned to Stairway to give back.
Seated in a circle on the stage, the Stairway children listen intently as Philip recounts his experiences of growing up in the streets:  "I was separated from my mom when I was very young.  I lived with my father.  When my father passed away I lived with my Uncle who had nine children.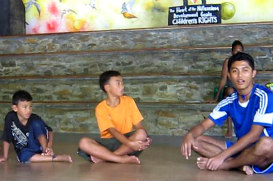 I ended up living in two to three different centers when I was a child and I had contracted tuberculosis. My first impression when I came to Stairway is that, it was totally a unique place different from the other centers where I came from. Here, I have the freedom to do what I need to do; you're comfortable to do anything. Maybe because, the Ate's and Kuya's are really closed to the children they are guiding and the staff can express to the kids what they are feeling and also the children can express what they feel. I see that everyone is comfortable and fair with each other, both staff and children.
I had lea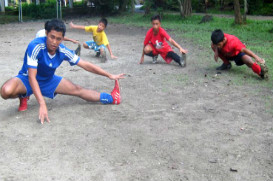 rned a lot of things when I was in Stairway. I was able to improve myself most especially my main characters and one of them is being close to God. It is where I gained my strength, and that's what they have also taught me. Until now, I am using it in my everyday life. Another thing that Stairway has taught me is how to be diligent and patient, in every simple thing that we do, just from cleaning the surroundings or dealing with children and people older than me inside the center. Being diligent, in making friends and being friends with everyone, because through this, you can gain a lot of friends and you gain people's trust.
I came back to Stairway because I wanted to give back, and Stairway is the place that had taught me so many things in life that I am using now. I will also never forget the people that have helped me when I was in Stairway. They are the reason why, I will keep on coming back to Stairway, to continuously thank them for what they have done to me because without them, I would never have had the chance to meet those children who were here before, and without them, I will not be where I am now."
After successfully completing his treatment for tuberculosis, Philip graduated from Stairway's Program.  He went back to Don Bosco to continue his education.  It was there at Don Bosco where Philip developed his love for football.  With the knowledge and skills he gained from Don Bosco, Philip became a football coach.  Presently, coaches children in two different NGOs and helps to train a Futsal team here in the Philippines.  Futsal is a variant of association football that is played on a smaller pitch and mainly played indoors.  Philip works as a computer encoder for a company in Makati, Manila.