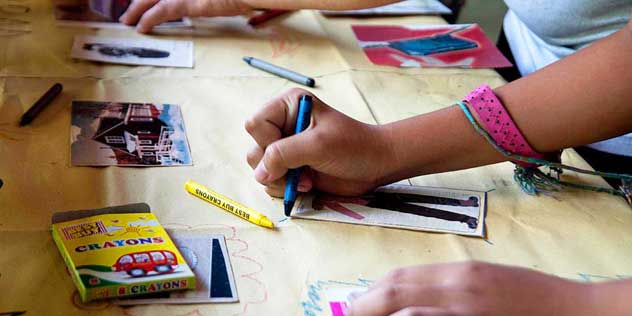 Stairway Foundation conducts a number of trainings on Child Sexual Abuse and Exploitation Prevention (CSAEP) at various levels and designed for a number of different target groups. Common for all the different varieties is the use of SFI's animation trilogy as the backbone of the communication.
Basic Child Sexual Abuse Prevention Training
This can be done in one to two days trainings. It discusses the concept of children's rights and child sexual abuse and prevention. This also includes gender sensitivity and disclosures. The animations "Daughter" and "A Good Boy" are used for discussion and take off points to emphasize the dynamics of child sexual abuse and exploitation. This also includes defining the offender, victim and their disclosures. The module was designed for direct service providers such as: social workers, psychologists, house parents, also for teachers, police officers and recruits and other social development workers. Modules were also designed for students/ children and parents in the community.
Basic Communication Skills Training
This training runs for three days and is usually given to NGOs with children/ youth clientele. This aims to enhance the capabilities of service providers in helping children develop protective behavior and personal safety skills against abuse and exploitation. Basic CSAP training is a pre-requisite for the Basic Communication Skills Training.
Trainers Training on Child Sexual Abuse Prevention
The ToT on CSAP runs for three days with the same content as to the basic CSAP trainings. It has added sessions on developing facilitation skills and how to use the two animation films in discussing/ processing the children's rights and child sexual abuse prevention. Participants are required to demonstrate training skills they have learned through actual demonstration on how they will conduct/ facilitate the sessions. Also included in the ToT are discussions on how participants can implement CSAP programs in their respective specific settings and contexts (i.e. NGO, LGU, etc.) Contents The Convention on the Rights of the Child Gender Issues Defining what Child Sexual Abuse is The dynamics of Child Sexual Abuse The offender, including discussions on the grooming process Understanding the victim Responding to victims Development of facilitation skills Using the animations Developing visual aids Initiating local networks addressing the issue of child sexual abuse The module is intended for trainers, direct service workers (e.g., social workers, psychologists), and social development workers.
Para- Counselors Training
This is a five-day training conducted with the aim of teaching participants basic counseling skills in dealing with child sexual abuse survivors. Contents also includes qualities of a good counselor, counseling process, basic counseling skills, use of creative modalities in counseling and caring for the self. Special topics (Suicide) The basic CSAP training is a pre-requisite for the Para-Counselors training. The module is designed for direct service workers (e.g., social workers, psychologists), teachers, guidance counselors and social development workers.
Cyber Safety Training
This training focuses on the emerging trend of online child sexual abuse. It provides different techniques in teaching online safety for the prevention of online child sexual abuse. Contents includes: Introduction to the technology; How technology is utilized today; How technology is being used to perpetrate online child sexual abuse; How to teach online safety for children; and How to teach parents to be protective against online abuse of children. The basic Child Sexual Abuse Prevention training is a pre-requisite for the Cyber Safety training. The module is designed for trainers, direct service workers (e.g., social workers, psychologists), and social development workers.
Gender Sensitivity Training
This training discusses Child Sexual Abuse within the context of Gender. It explores the concept of gender, gender issues and how gender inequality and inequity give rise to conditions that perpetuate and condone Child Sexual Abuse.
Safe Schools Training
We like to think of schools as safe spaces for our children to learn in a positive environment where they can develop to their fullest potentials. However, schools are not safe spaces all the time. According to the latest Violence against Children study by UNICEF Philippines, "The prevalence of violence in schools is almost equally disturbing, with approximately half of Filipino children experiencing some form of violence in school. Children are susceptible to various types of abuse by teachers, school staff, and peers in school."
In order for schools to maintain a protective environment for their students, they need to enact certain measures to address child protection concerns. From formulating localized and responsive child protection policies to conducting sessions that will increase the protective behavior of students, schools must actively work on creating and maintaining a safe environment.
Stairway has designed a specific training program for schools that will enable them to achieve the following objectives;
To understand the concept of child rights and child sexual abuse
To formulate localized child protection policies that encompass
prevention and management protocols against child abuse
To understand the concept of online abuse of children
To have the capacity to conduct direct sessions with students
that will address offline and online abuse
Download: Safe Schools Folder