Thanks to the substantial support from Firetree Foundation and Lauritzen Fonden, we have now expanded our Educational Assistance Program to include more than 170 deserving families.  The funds support students in elementary, high school, college and vocational school.
May 31, 2014 – The sun was stretching its long arms over the clear blue sky; however, summer vacation break would soon end for most of the students in the country. On this sunny Saturday afternoon, two days before classes commence nationwide, a total of 300 scholars and parents flocked at the Stairway Center for the annual general assembly and orientation of the scholarship program.
Click here to view images
The new school year 2014-2015 was record-breaking as a total of 170 scholarships were approved from the basic, secondary and tertiary levels. This is the biggest number so far since the inception of the program more than 10 years ago.  Last school year, the program supported 114 scholars.
From more than 160 hopeful students who submitted their applications, the number was trimmed down to 93 newly chosen scholars after a selective process of evaluation by gauging every applicant's academic capacities and getting a glimpse of their attitudes and lives through interviews and home visits. They joined the almost 80 current scholars, who continue to avail the educational assistance.
After the General Assembly meeting, school supplies were distributed to the scholars. Depending on the scholar's performance and the financial situation of the family, they receive full or partial tuition fee, school uniforms, fare and monthly allowances for food accommodation, when necessary.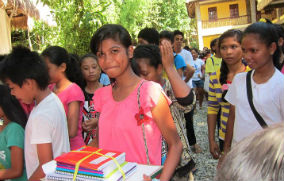 "More and more children are in need of assistance to pursue their right to an education, and we feel privileged that generous support from our partners (ADM Capital Foundation, Firetree Foundation, Stairway Denmark) has enabled us to assist 50% more students this year.  However, more than adding numbers to the program, we wish to ensure the enhancement of further support and extracurricular activities for all scholars, so that they will stand strong and prepared to face personal as well as more universal challenges, as they enter into the adult world. This means we will be stressing personal monitoring and individual support, as well as facilitating training on human rights and environmental related issues for the scholars", explained Jason Abarquez, SFI community assistance program coordinator.
In the coming years, the program is anticipating an increasing number of indigenous students to be supported, as more attention is placed to children and youth from the marginalized minority in the local community. The number of indigenous scholars this school year is 32, doubled from last school year's 16.