We were expecting around 15 to 20 patients, but 3 times that number showed up for the first medical consultation we held at our Baclayan Camp House early last February.  The complaints ranged from diarrhea, dizziness, cough, colds and other conditions that were easily treatable, but with cases of serious infections and tuberculosis along the line.  Under nourishment, vitamin deficiency and dehydration were the most prevalent triggers to the ailments presented.
Our ability to offer this new and very important service to the Baclayan community now is due to our friendship and partnership with Dr. Francis Daytec, who is volunteering his time and talent for the cause.  Dr. Francis runs 2 clinics in 2 different barrios of Puerto Galera, and yet he still finds time to invest into helping the most deprived in our community.
The effect of the medical program is far from limited to the immediate help offered to the patients.  With the introduction of the medical consultations we open up a venue for educating the locals on relatively simple measures that can help improve their health condition immensely.  An example where simple advice can help more than any medication is a breast feeding mother complaining about fatigue and dizziness, who reveals that her daily intake of water averages less than a cup a day.  Improved hand hygiene is another simple measure that can drastically cut down cases of diarrhea and intestinal infections.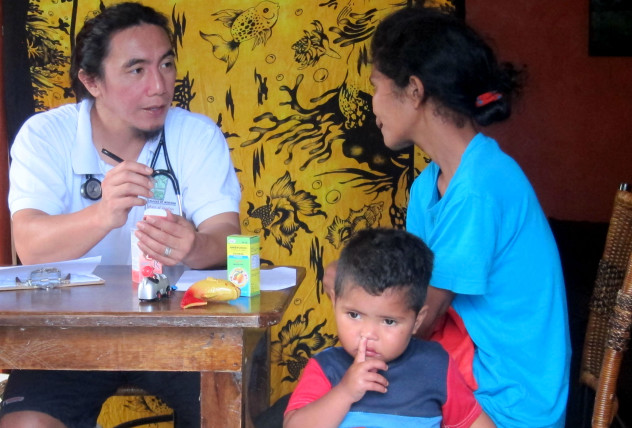 Of course the solution is not quite as simple as offering the advice of drinking more water and keeping ones hands clean.  There are cultural values and customs interwoven with the very simple living conditions that play into resolving what may appear as easily tackled challenges.
An open mind and a healthy amount of tolerance are necessary prerequisites to engage in working with a group of people, who despite the recent introduction of Catholicism carry entirely different belief systems and values.  Fast conclusions, which are always based on personal values and norms, never work in favor of a skilled developmental worker.
Despite vast differences in living conditions and general outlook on life, it is beyond any doubt that the regular medical consultations will have a significant positive impact on the general health condition of the indigenous population in Baclayan.  Currently we hold the clinic in a room in our camp house, which is about 5 minutes hike from the school.  For several reasons this is not an ideal set-up, so we hope to be able to build a small clinic near to the school within a near future.   The educational benefits in terms of health and hygiene by having such structure at the center of the community could be substantial.