The Philippine National Police (PNP) and Stairway Foundation, Inc. (SFI) renewed their partnership during a Flag Raising Ceremony and Signing a Memorandum of Agreement on March 28, 2022.
The partnership agreement highlighted: promoting and integrating children's rights, child sexual abuse and exploitation prevention, and cyber safety within the PNP. Both parties agreed to craft a framework for cooperation and facilitate collaboration in advocating the prevention of offline and online abuses of children through capacity development, tools, systems development, and network and awareness-raising strategies.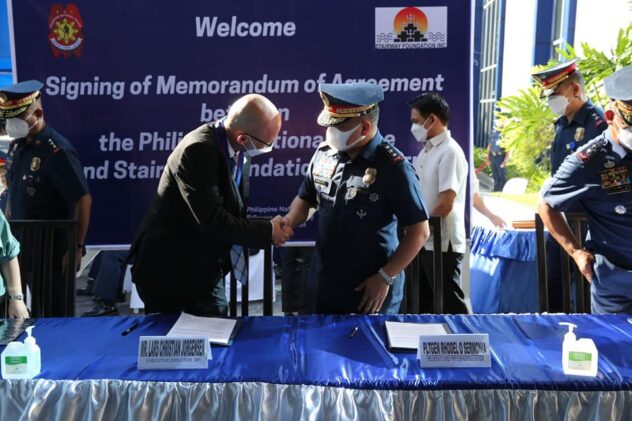 Involved in the cooperation are the Directorate for Human Resource and Doctrine Development (DHRDD), the Directorate for Investigation and Detective Management (DIDM), and the Directorate for Police Community Relations (DPCR).
At the MOA signing, Stairway's Executive Director Lars Christian Jorgensen and PLtGen Rhodel O. Sermonia, representing PNP Chief General Dionardo B. Carlos of the Philippine National Police, with Stairway NCR's Officer in Charge Mary Grace S. Esteban and PNP PMGen Walter E. Castillejos as witnesses.
Stairway and PNP have been collaborating and working together to promote the protection of children for over 15 years now.
By Grace Esteban, Program and Operations Manager/OIC–NCR Office, SFI