Last September, in an elaborate ceremony, Lars C. Jorgensen, Executive Director of SFI, and General Chuck Guinto of the Philippine National Police Academy (PNPA) signed an Agreement of Collaboration to ensure that all graduating cadets from the Academy will have undergone training in Children's Rights and Child Sexual Abuse Prevention.
Stairway has worked many years with children who used to live on the streets, and in the process, we have learned (through the children's testimonies) that the law enforcement needs intense improvement in its dealings with street children. In light of this, SFI deemed it important to try and extend our advocacy work into the ranks of the Philippine National Police (PNP).  Click to view images
In 2006, SFI held the first training on Children's Rights and Child Protection in one of the country's regional Police National Training Institutes (PNTI).  This first training helped to pave the way for the inclusion of all 17 regional PNTI.  As a result, SFI provides workshops to more than 10,000 recruits per year before they graduate and enter into the police force.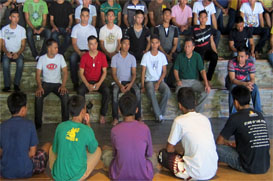 The latest development in our collaboration with the Philippine Law Enforcement is a significant break-through in the education of future police officers because the graduating cadets will become the future leaders of all of the police precincts around the country.
After receiving training at their respective schools, the young cadets also visit Stairway for 2-3 days.  Here they meet our children who also enrich them with their experiences from the streets as well as their personal experiences with law enforcement.  For many of the cadets, this is a very emotional and mind altering experience.
SFI is hopeful that through our advocacy work with the PNTI, future police cadets will become instruments of change in the negative treatment of street children by law enforcers.