The Christmas holidays can be a difficult time for some of the boys in Stairway, but with all of the merriment and the hustle and bustle around the center, most of them forget about their woes and focus their energies in preparing for Stairway's traditional Christmas play, One Wish.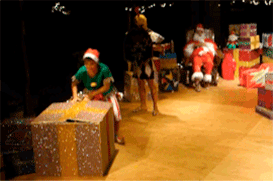 One Wish, is a farcical Christmas tale about an Elf named Elfie who is kicked out of the North Pole by Santa and the other elves for being too selfish.  Elfie learns the true meaning of Christmas by a bunch of street kids locked away in a detention center on Christmas Eve.
This year, we held six shows with high attendance from both local and international audiences.  After the performance, children received a small Christmas gift of freshly baked cookies from Stairway's new bakery.
How do we begin to describe the happiness and joy on the faces of the young and old who watched One Wish? Well, only one word comes to mind—Magical!
A truly memorable and successful performance, Stairway children and staff had created magic and brought the spirit of Christmas to many.
Congratulations and thank you to the Stairway team, friends and supporters who continue to help Stairway to make a difference in the lives of others.