"The whole is greater than the sum of its parts" – Aristotle
The workplace of today looks dramatically different to the workplace of yesteryear. For an employee, managing one's state is not just a daily challenge but considered to be a part of life. Relative to this, the demand for a child's rights organization worker is even higher due to the possibility that if mismanagement of one's state occurs it might not just affect the individual but might also impact the beneficiaries and clients. With this being said, a conscious management no longer consider employee recognition programs to be solely designed for retention, but is also anchored with capacity building features. Given that one cannot give what one does not have, an individual does not only strive for a quality job for personal security but also finds meaning of existence in their respective careers.
Stairway Foundation Inc. is profiled to have a highly diverse workforce, from expatriates, baby boomers, genX, millennials, to indigenous people.  In order to reinforce camaraderie and cross cultured environment for everyone the SFI Staff day is one of the employee recognition programs that the organization has been conducting annually. It thrives in the value of giving back to the employee through capacity building activities, leisure and relaxation experiences with their co-employees by allotting a three day activity leaving all stress/non-stressful work-related activities behind to bond with other SFI employees.
Last June 25-27, SFI held its annual Staff day with a variety of indoor and outdoor activities. Day 1 was allotted in strengthening the cooperation among SFI employees; develop teamwork with each other and to learn individual differences by spending more time with their co-employees outside their own unit or department. They were also given the opportunity to know the organization through a series of Documentary Films and Discussions.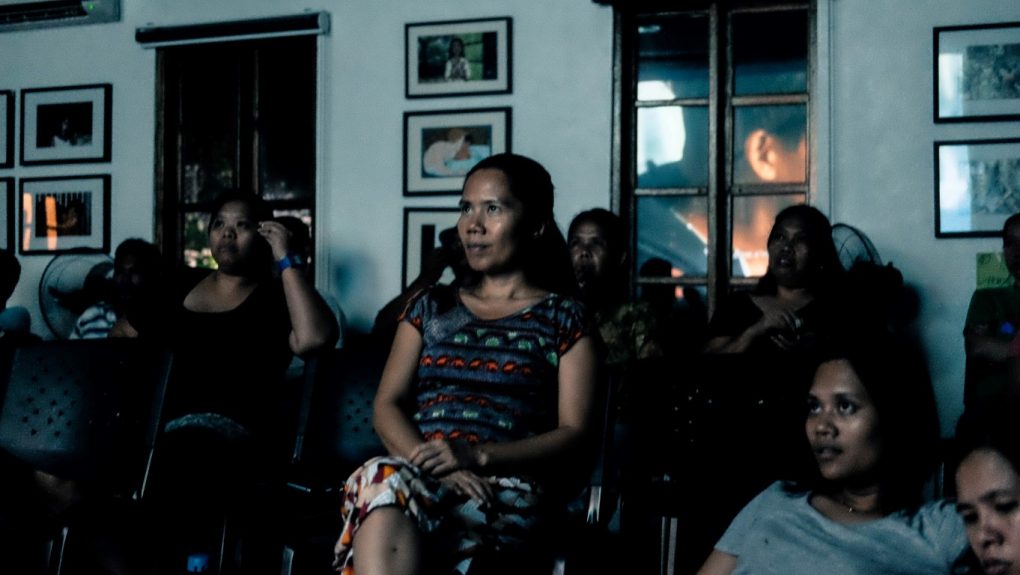 During the discussions, salient points such as what makes them happy and sad with their work as well as their suggestions for making the workplace a happier environment was presented by each family/ group. After the discussion, the team also watched the recently launched film "A Year of Hope" which documented a life of a former street child under Stairway's Family Home Program for a year.
"Some of the activities during Staff day reaffirmed me personally about Stairway's humble beginnings. Especially during the part where we were able to watch the film "The Boy Who Didn't Want to Wash by Katrine Nyholm, 1998." – Kuya Jason, EACY Program Coordinator
The second day started with a regular Stairway activity which is beach time followed by animation viewing of the Red Leaves Falling and the rest of the morning was allotted to presentation of accomplishments and updates from different Programs. The presentation of updates is a venue for developing self-appreciation and teammate's appreciation relative with overcoming individual differences in reaching milestones while achieving efficient service delivery for the clients.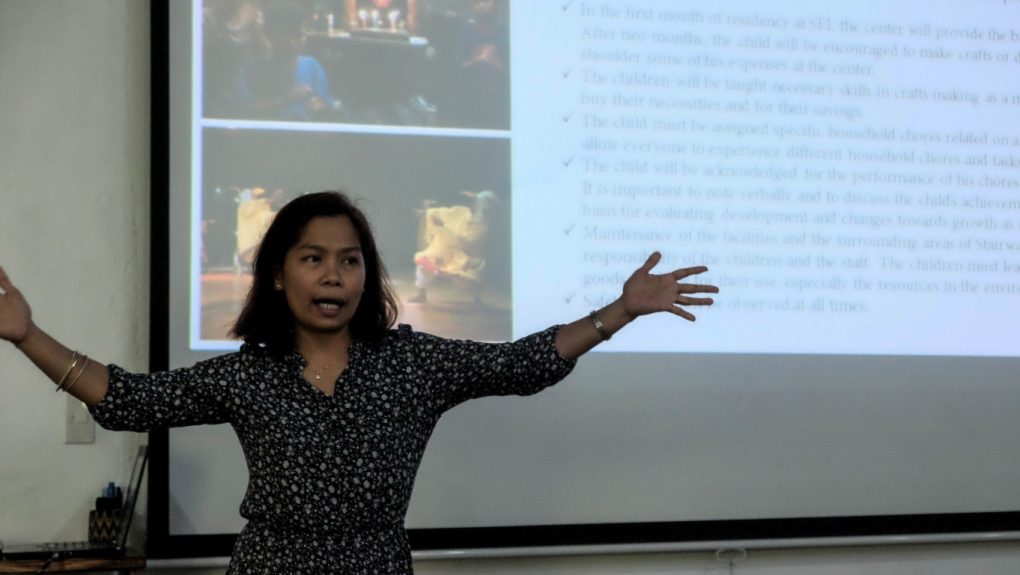 Since environmental protection is very important not just in the location where SFI is situated but is also a relevant concern all over the world, an Environmental Awareness Film; BLUE was also shown for each group to come up with their suggestions in raising more awareness in Environmental Protection. After a productive day, a fine socialization dinner at Luca's Cucina Italiana, a pizza place situated in a beach front area in the neighboring village followed.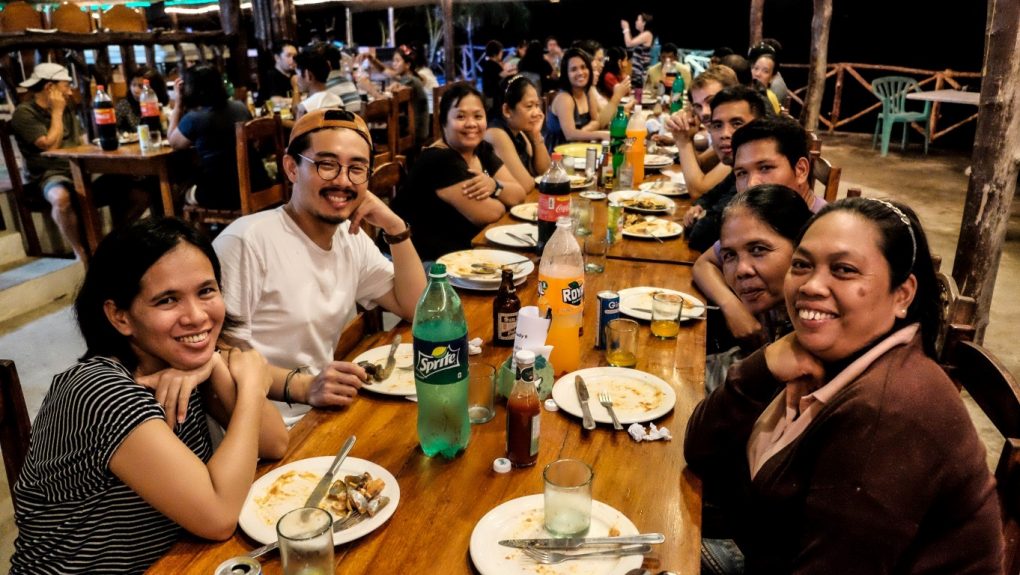 " Noong nakaraang Staff day, marami akong natutunan tungkol sa Stairway, mas nalinawan ako sa trabaho at ginagawa ng ibang programs gaya ng CAP, FHP, EACY, mas naiintindihan ko na siya". I learned a lot about Stairway in the recent Staff day, I was enlightened with the tasks of my workmates from other programs such as CAP, FHP and EACY, I was able to understand it more. – Ate Edith, Admin and Finance Staff, Manila Office.
"During the staff day, I have observed that Stairway has close-knit people, despite the obvious diversity of each and everyone's background" – Kuya Kyle, Filipino- American Volunteer
In Day 3, around 7:00 in the morning, the team left for a SEA ADVENTURE SCHOOL (SAS) Trip, facilitated by the SAS Crew, the team was able to experience the exact SAS trips conducted with the Local students and stakeholders that are participating under the ENVIRONMENTAL AWARENESS for the CHILDREN and YOUTH (EACY) program.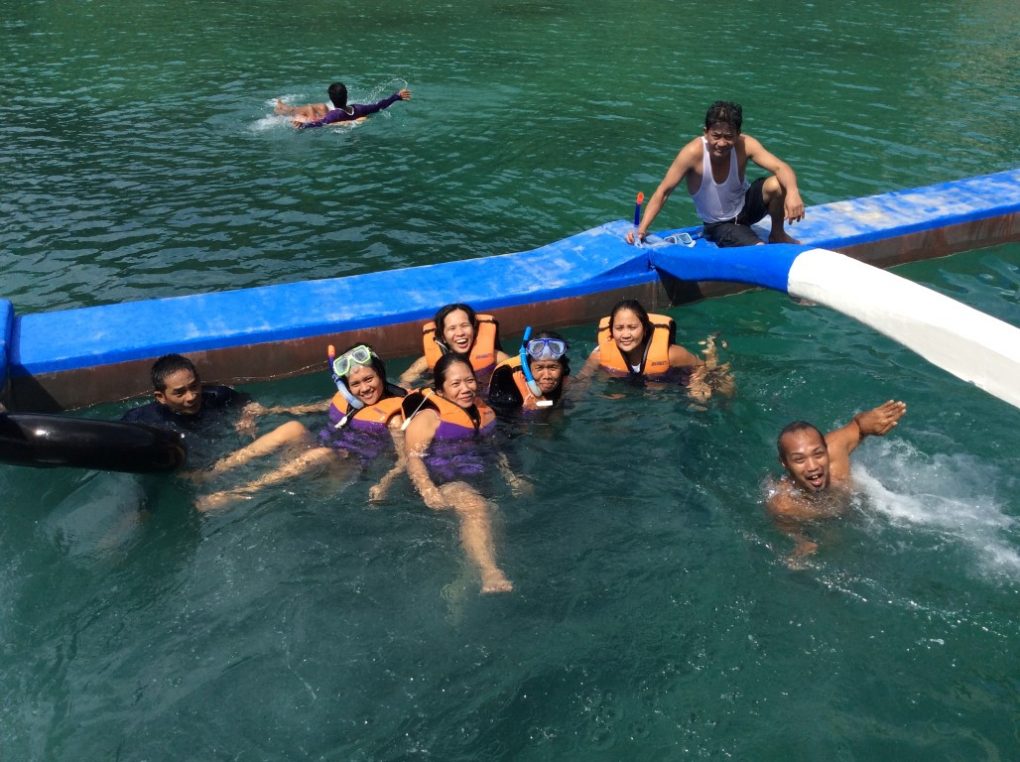 "Enjoy ako tuwing staff day, dahil nararanasan kona namang sama sama at nakikitang masaya ang lahat" – I enjoy every staff day because I get to see everyone and I get to bond happily with them.  – Ate Leclec, Facility Maintenance and Kitchen Worker.
Coco Beach Island Resort was the last destination of the trip, the team spent the remaining hours of the day dipping and playing in the pool, enjoying the relaxation areas of the resort and had a sumptuous meal during lunch.
"Masaya ang pakiramdam ko dahil nagsama sama muli ang buong grupo, lalo na nakaligo ako sa swimming pool, dahil minsan lang iyon mangyari sa buhay ko" – I feel happy because the team is reunited  most especially I get to swim in the swimming pool, because that barely  happens in my life. – Kuya Eric, IP Staff, Boat Crew and facility maintenance staff.
We often times hear that people is the real asset of the organization, but actually it is the "right people". Personal values are believed to be in sync with the core values of the organization only if it is reinforced through relevant Employee appreciation and capacity building activities. Stairway Foundation believes that right people are not found instead they are honed. Eventually, with proper scaffolding from their working environment each individual will be able to reach their full potential.
Contributed by Cassandra L. Sta. Maria, Operations and Human Resource Administrator
Photos by Kyle Cham, volunteer, SFI