In early April, 17 boys had their first open water dive experience, courtesy of Alice and Bjoern from AB Wonderdive , in Small Lalaguna, Puerto Galera.  Our partners from ReefWorld foundation organized the event and provided dive instructors and dive masters to secure a fun and safe experience for everyone.
Try Dive day was an exceptional day.  This was the first under water sea adventure the children and staff from SFI ever encountered.  And imagine their experience!  It was like none other they had ever had before. Before the dive, the children and staff were separated into small groups.  Next they were briefed by professional instructors about the equipment and learned some of the safety hand signals.  Afterwards, they buddied up with a dive instructor.  Click here to view images
Lots of chatter filled the air as everyone helped each other to get into tight wet suits and weighty scuba equipment.  Walking confidently out onto the sunny beach, as if they were on a space mission of sorts, the children with dive instructor by their side submerged into the sparkling deep blue.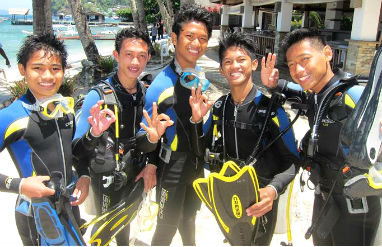 Beneath the watery realm, Go Pro cameras captured the children's expressions as a whole new world of wonders opened up before them.  They were enthralled by the colors of the marine life and relaxed by the sensation of weightlessness.  One child, who was a bit nervous before the dive, exclaimed when he re-emerged, "Let's do it again!"
Back on the surface, the children excitedly thumbed through picture books of marine life pointing out what they had witnessed under the sea.  Aside from the obvious fun the children had, they also began to think of the possibility of becoming a dive master or a dive instructor as a feasible livelihood opportunity.
The wonderful day ended with everyone receiving a Try Dive certificate and a photo shoot with their dive instructors.    This will not be the last dive the SFI children will encounter.
Thank you Alice and Bjoern from AB Wonderdive and Reef World Foundation for an unforgettable experience.