There could be many interpretations of art; it depends on the audience, the artist, and the system. Art is a way of expression, a tool we have at birth. It helps us process not only our negative emotions but also our positivity. We stay true to our emotions through art and come out with unending bravery. Art is the tool that explains this unprecedented act that children have but lose as they grow into adulthood.
Abstract thinking: breaking the rules
Our objectives should be flexible yet tangible. When I saw the kids' sketchbook, I knew that there would be more room to break free. They knew art technically but lacked a genuine, honest expression in it. How to help them to create outside the box, outside the rules, and yet inside, guarded by their freedom? Abstract art is a great way to get the children involved with art without worrying about the result.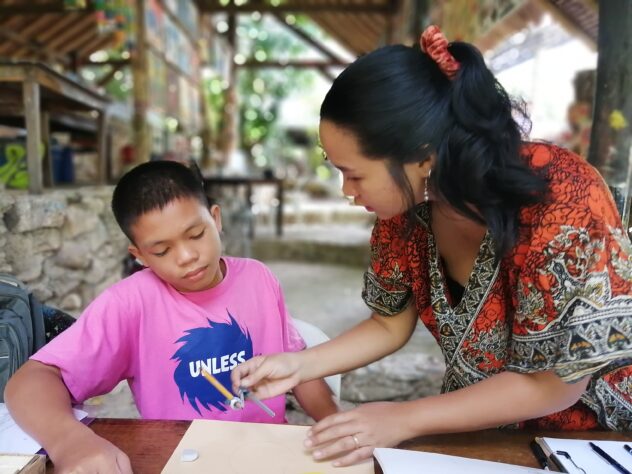 Art as opportunity
Each lesson, technical or expression, co-responds to a life lesson, emotional approach, or an equal opportunity. This is the beauty of Art; it mirrors life both in reality and in a dream sequence. This helped a lot for the kids to engrave its importance, not only for the space but also for their own. They saw and understood that it is a space that creates an opportunity for themselves rather than knowing that opportunities were engraved on a certain standard.


Rules for guidance
"Tama ba ito, Ate?" (Is this right, Ate?), to which I mostly reply," That depends on you, we have rules but they are mere guides. If you have a different process, or approach, you can let me know. I can guide you if you are confused and redirect you to the path you initially wanted to go. This conversation started between me and the children.
As the class progressed, not only would there be a lot of expressed confidence in their work, but also a sense of camaraderie within each other. If there would be an instance that one would ask the same question, asking for validation of their progress, they would repeat this answer of mine, and help whenever it would be difficult for one to understand. Even to an extent of explaining the difference of one's decision for their work, and asking for guidance on how to execute their desired output.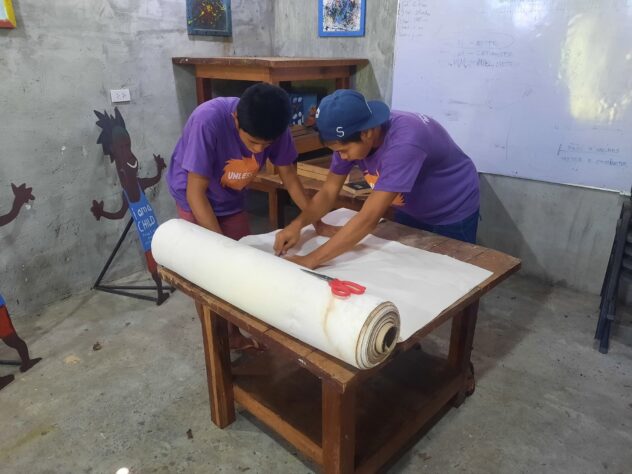 More to learn
It was a challenge to give new lessons, especially later in their stay, but as far as it has been, I've been proud of what I've seen of how expressive they have been, how confident they are to create ideas outside of every box they encounter. There is still a lot more to learn, but I see that they've already got it down as far as the foundation of expression. I have asked them what they thought about the class so far, and these are the things they said:
"Maganda, kasi madaming natututunan" (Beautiful because there's a lot to learn) says, John Mark.
"Maayos, natuto kami, kasi walang gulo" (Decent, because we learn, and there's no fight/confusion) says JM
"Maganda, kasi yung nararamdaman ko natutunan ko kung paano maging komportable" (It's good, because I feel like I've learned how to be comfortable [about my feelings]) says XJ.
"Maayos kasi nakakatulong sa iba" (It's good because it can help others) says Carlo.
"Good, kasi [lumalago] ako" (Good because I'm growing), says Phillip.
"Masaya kasi maraming natututunan" (Masaya because there is a lot to learn) says Symon.
"Maraming nalaman, natutunan" (Learned a lot) says Rommel.
"Masaya kasi lumawak ang kaisipan [ko]" (I was happy because it expanded my knowledge) says Kenneth.
"Masaya, [maraming] natutunan na gawain" (It's fun because I learned a lot of activities) says Jeffrey.
"Masaya kasi madami pwedeng gawin" (It's fun because there are so many things [we] can do), says Dexter.
Enjoy more of the Stairway children's artwork here
By Krisha D. Gaffud, artist in residence, SFI